How to define your Office 365 migration goals
Regardless of the company's size, the first concern with the Office 365 migration is the impact on daily business operations. The first goal is to minimize disruption by carefully planning the migration process.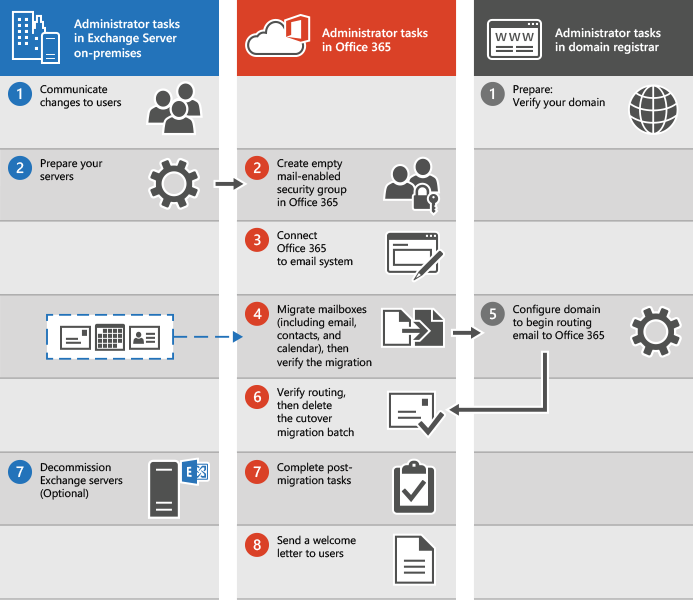 The other goal to keep in mind is setting a timeframe and committing to delivery due dates. Not only a firm, clear timeline will ensure the success of the migration, it will also positively affect employees as you will meet their expectations when it comes to changes.
Your Office 365 migration checklist highlights
Although Microsoft has provided their users a great deal of help with the transition posters, tips, and tricks, it's helpful to go through the takeaways. Here are the most important steps to include in your Office 365 migration checklist.
1. Inform your team about the migration
Before doing anything else from the migration checklist, ensure that you prepare your workforce – let them know about the process and prepare them for the upcoming steps. Employees will play a role in the process as part of the next step, and it's helpful that they know about it so that they can manage their expectations and stay on track with the timeline.
Microsoft's FastTrack program for O365 migration is designed to help you transition, including employee participation, as explained in the next step.
2. Create an inventory
As per Microsoft's recommendation, you should list everything in your environment, including:
User accounts – employee email addresses and login credentials (including former employees)
Mailboxes – make sure to include all mailboxes, together with their number and size
Storage details – the locations of file shares
Client data like versions, configurations, and specifications, including OS, browsers and applications
Communication platforms – collaboration systems and IM systems
Network settings – proxy and firewall settings, DNS hosts, etc.
All application details that you've integrated – CRM, HR apps, mail-enabled apps, etc.
3. Choose a deployment strategy
Microsoft offers a great deal of support: from deciding on the deployment strategy to in-depth coverage of performing each one. The choice depends on your company's size, time frame goals, and whether you're migrating from another email server or the Exchange Server.
Here are the most frequently used deployment methods for migration, and each of them suits different timeframes and volumes of data.
IMAP migration. Use the Exchange admin center or, alternatively, Exchange Online PowerShell to migrate the content from an IMAP messaging system, including from other email services, e.g., Gmail or Yahoo Mail.
Cutover migration. With cutover migration, you migrate all on-premises mailboxes to Office 365 over a few days. This strategy works best if you have up to 150 mailboxes, as there is a risk of poor performance for migrating a larger number of mailboxes.
Staged migration. A bit slower migration method, the staged migration lets you migrate batches of on-premises mailboxes to Office 365 or Microsoft 365 over a few weeks or months.
Hybrid deployment. A hybrid deployment can work as an intermediate step to a complete move to an Office 365 or Microsoft 365 organization. It enables a feature-rich experience and control with the existing on-premises Exchange organization, the same as the cloud.
Third-party migration. Use third-party migration tools if you need specific protocols and approaches for email migrations from specific platforms on particular terms.
Regardless of the choice of the deployment strategy, the most common deployment tasks that make it to the Office 365 migration checklist are the following.
Create new or synchronize accounts – add employees and assign licenses to Office 365.
Authenticate accounts – choose identity models of O365 accounts.
Migrate all data – migrate various emails (Gmail, Outlook, etc.) and contacts to Microsoft 365.
In addition, to ensure the most effective migration, do not forget to:
Store emails and files with a third-party archiver for easier use and accessibility.
Use Microsoft tools for guidance on directory synchronization to Office 365.
4. Roll out the employees
Finally, perform employee rollout to complete the previous steps: account setup and authentication. Continue the rollout by these steps:
Add a domain to Office 365
Add users and assign appropriate licenses
Configure Office 365 application settings
So, it's evident that there is a lot involved in the Office 365 migration checklist. Many factors determine the exact process – the size of your organization, current setup, goals, and particular preferences. The checklist provided in this article is a rough outline of things to consider when planning a migration deployment.
One thing is sure: preparing as much as possible and assessing the specific needs or troubleshoots will save you time and money.
Migration is the right time to introduce additional measures to protect your enterprise and establish proper compliance processes. At Jatheon, we provide secure, advanced third-party archiving solutions that are fully compatible with Office365 and much superior to the native archiving capabilities offered by O365 itself.
To learn how to support your Office365 migration process with email archiving, contact us or get a short demo of our cloud archiving software.